HANUKKAH DIY CRAFTS FOR THE WHOLE FAMILY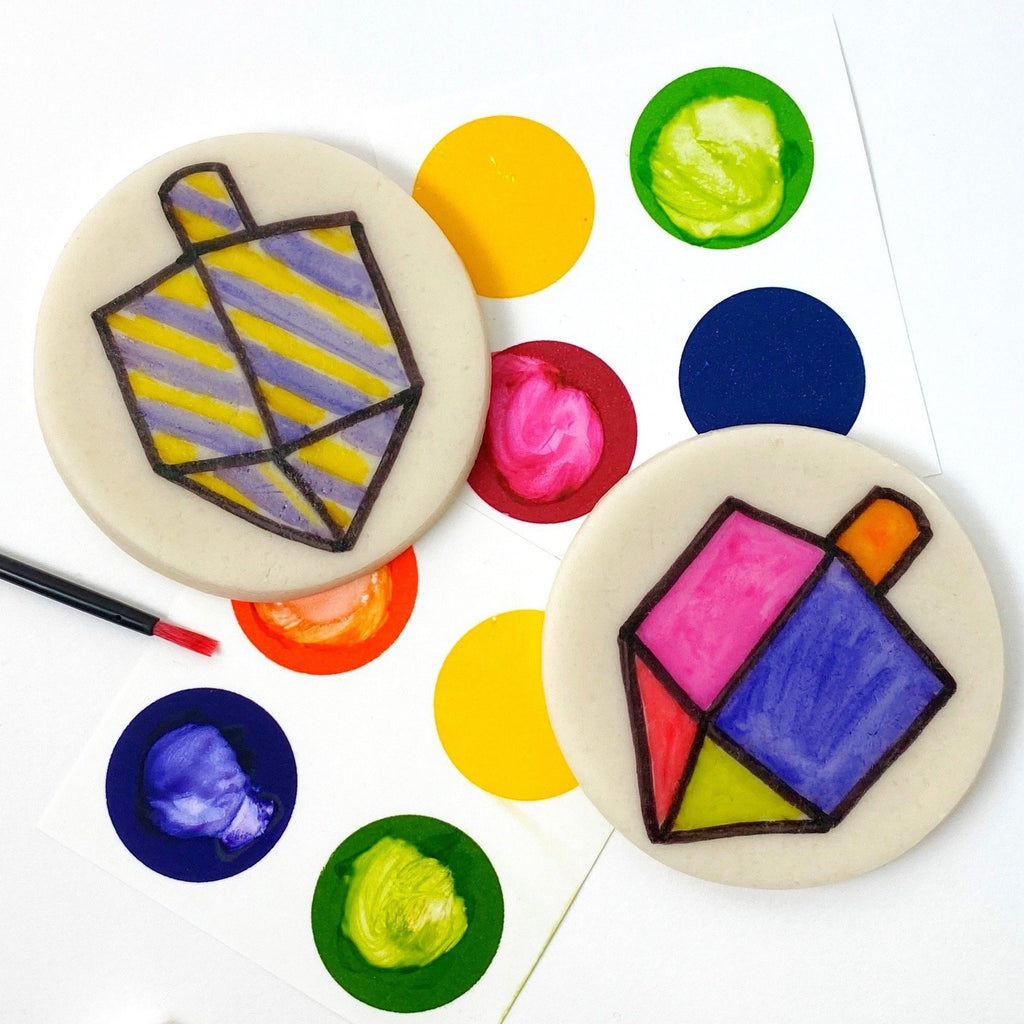 2020 has been quite a year!  While it has been a struggle, on the positive side with having more time on our hands, many of us are baking, doing crafts or learning a new skill.  With Hanukkah around the corner, engaging in a family DIY project can make the time spent at home joyous for all!
Are your kids into crafting?  We have several options that will keep them entertained.  We also offer bulk discounts, so if you are planning a party or even a virtual meet, we can supply you with your needs.
The DIY Hanukkah Card kit comes with everything you need, including the cutest artwork by artist Lindsay Ostrom to make your own Hanukkah cards or gift tags.  In this video, and blog post, the adorable Sutton sisters share how they used the kit to create bookmarks and cards!  
The 11 color paint by number kit can be painted all at once or for each night of Hanukkah.  The kit includes acrylic paint, an artist quality paint brush, and a paint by number screened onto an 8X10 panel, all in a giftable drawstring bag.
Our menorah craft kit is fun to arrange and can also be used for teaching about the lighting of the menorah.  Last Hanukkah I used it to teach my daughter's girl scout squad and it was a hit!
LEGO's are a favorite past time that can be enjoyed at any age.  This Hanukkah why not create a LEGO menorah?  We have 2 different options: The muticolor menorah and the multicolor menorah junior.  Want to hear the best part?  You can light them, no not with real candles, but with an LED electronic light kit.  Watch this video to see how, it is pretty amazing!
We launched in 2017 with the chalkboard menorah being one of our first items, and it quickly took off!  The sign's chalkboard base invites family to draw a flame on each candle as the days go on.  It is also a beautiful piece that can suit any décor.  Display it in your foyer, or in the large size over your mantle. 
Have you been baking more this year? (hand up!).  You may love either of these items.
Our cookie stencils have been designed to make all of your confectionary projects beautiful!  Works well with royal icing or airbrushing.  When you are not decorating confections, try using the pieces to create greeting cards, gift tags or embellish scrapbooks.   
A new item this year are these paint your own dreidel cookies.  The dreidel is outlined using edible black color.  You paint them in using the included palettes with edible color.
Whatever you choose to do, we hope this Hanukkah can be a special, meaningful time for all!
With Peace, Love and Light
Lisa