Decorating for Hanukkah: Hanukkah House Tour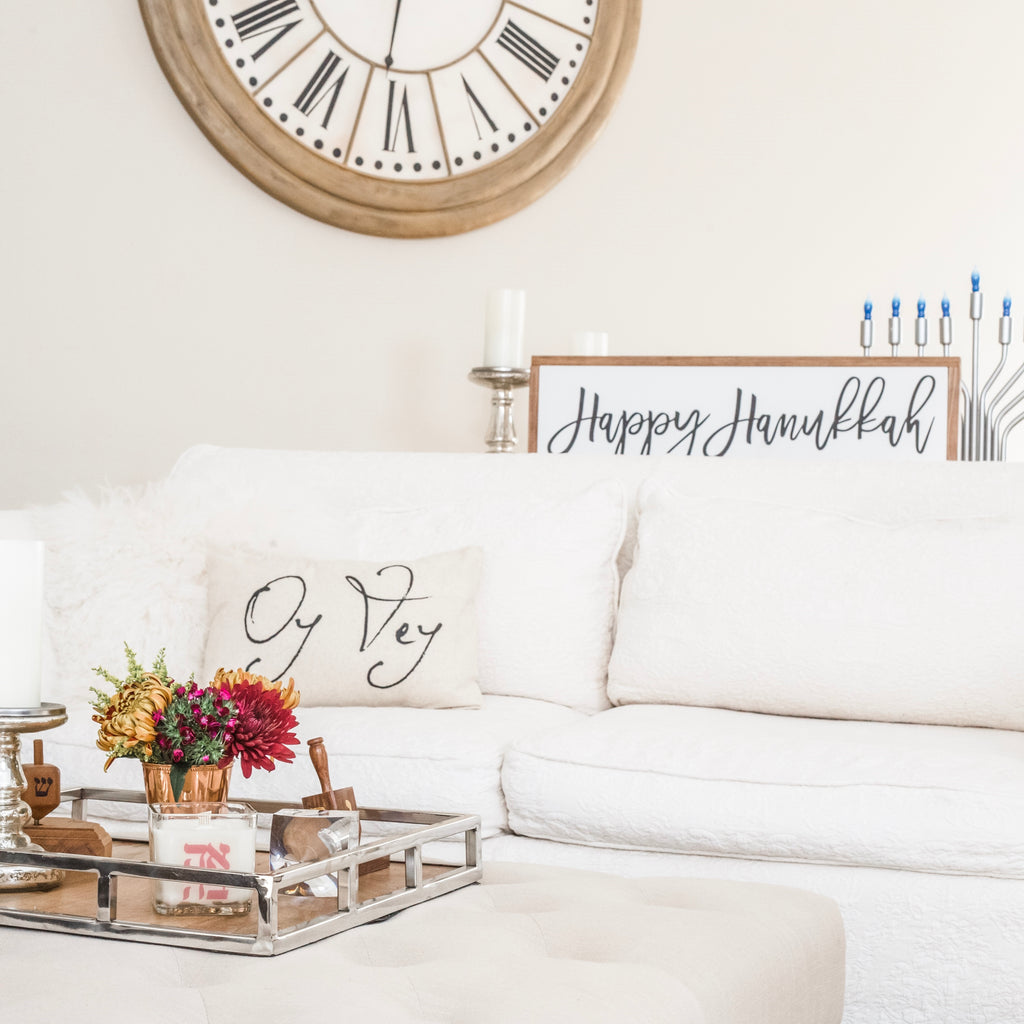 As you may have seen on the Peace Love Light Instagram and Facebook pages, we recently asked for two homes to decorate for the holidays.  Our goal was to share how Hanukkah decorations can be mixed in with the homeowners' existing décor to provide a festive, yet stylish look.
When we arrived at our first home we immediately fell in love with it, and its open floor plan.  Being that the homeowner's color palette consisted of beautiful, warm tones, we thought we'd go with a non-traditional Hanukkah palette (no shades of blue!).  So often Hanukkah decorations come in traditional colors, which of course can look beautiful, but if you don't feel that those colors work with your style and décor, it's ok to step out of the box and try a different color story! 
The homeowner, Celia, a health coach at @gethealthywith_celia was absolutely lovely and passionate about her Judaica collection.  She had the most gorgeous menorahs, and an extensive dreidel collection (we felt right at home!).
To start our process with the dining table, we set her table with a tablecloth and featured her stunning menorah as a centerpiece.  We then added two glass hurricanes filled with our gold dreidels.  Celia has beautiful china that we accented with our grey Hanukkah napkins, which we placed under the salad plate.  We used votive holders to add a beautiful touch of color and Celia's rose gold vases, saved from her daughter's Bat-Mitzvah, served as the perfect accent for our floral arrangements. 
Next, we moved to the living space and placed our Oy Vey pillow on Celia's sofa, we always love how this adds whimsy to a home.  Behind the sofa, on the console table, we displayed her overscale electric menorah, our Happy Hanukkah sign, and accented with her candle holders. 
The entrance of a home is always a great place to decorate for any occasion since it serves as a first welcome for our guests.  In Celia's entrance we included our Chalkboard menorah sign (perhaps her family can 'light' the candles each day as they walk in the door), her fun Jonathan Adler brass menorah, and a votive.  Our popular signs of the season banner finished off the look.
It was a nice and touching compliment that the homeowner's daughter exclaimed how classy everything looked!  We were so excited to hear this, as our goal is to always accent a home, and for it to not appear kitschy! 
The other home we decorated was for an interfaith family that celebrates both Christmas and Hanukkah.  See how we displayed our Hanukkah decorations to work cohesively with the families' existing Christmas décor in our post Holiday decorating for an Interfaith Family.  
To learn more tips about decorating your home for Hanukkah, you can view our recent posts on decorating your Hanukkah mantel, and decorating for Hanukkah, tips and tricks.
With Peace, Love, and Light,
Lisa
All photos taken by Charlene at www.charpics.net, who not only takes gorgeous room photos but also is a talented Bar/Bat Mitzvah & Wedding photographer.  If you are in need of a Connecticut photographer, she is the one to contact.