Decorating for Hanukkah: Tips & Tricks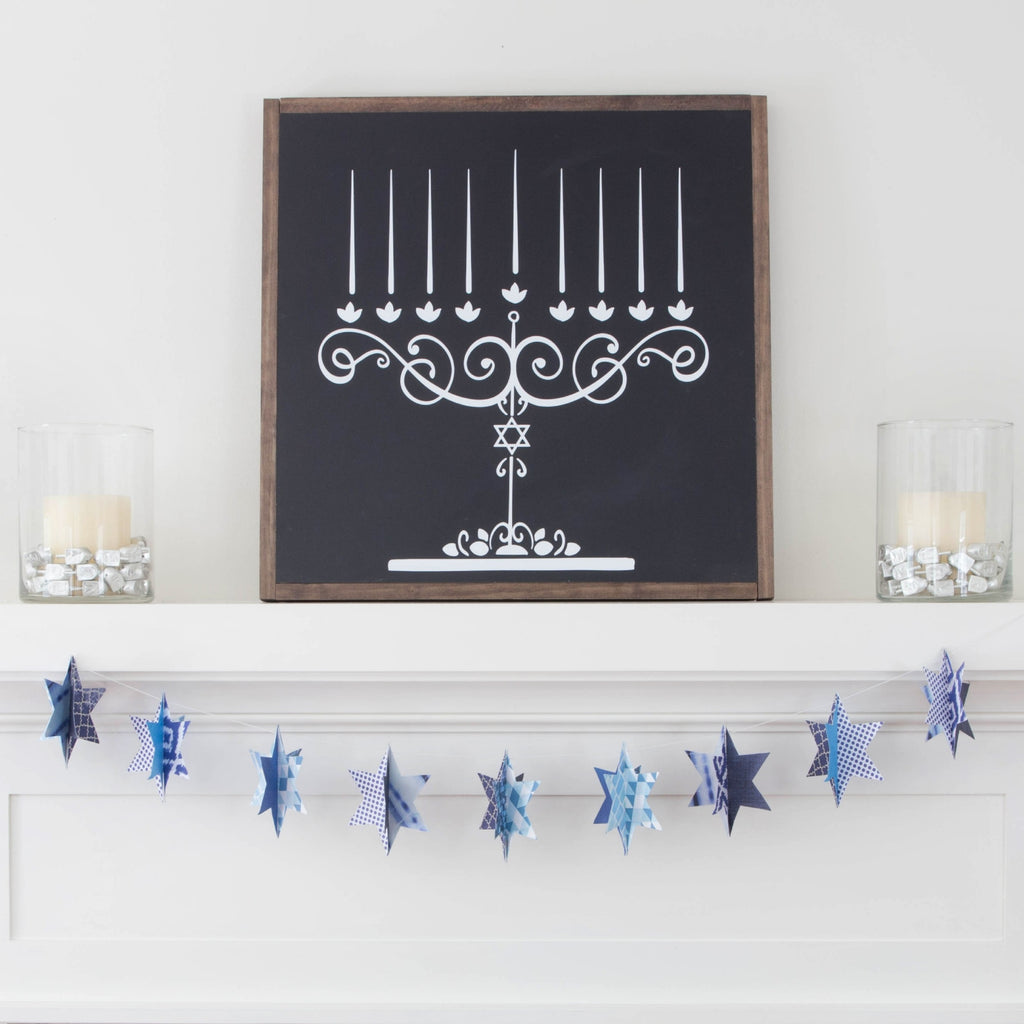 As a mom and as an interior designer, I love to decorate my home for the changing seasons and for the holidays but it was always difficult to find stylish Hanukkah decor.  It's important to me that our home feels comfortable, warm, and festive.  My 9 year old daughter, who is a creative soul, really gets excited when our house is decked out and loves to help style our home, which of course I adore. 
When changing the decor in my home, I always start with the mantle as it's often the focal point to a room; when styled, it has such a beautiful presence.  A seasonal or Chanukkah banner is an inexpensive and easy way to change the look and feel of this space.  Above the mantle, a piece of holiday art  can also easily set the tone for the room.  When choosing a piece of artwork, it's important to first measure the space to see how the artwork might fit. I will typically mask out the area with painter's tape so I have an idea of how much space the artwork will take up.  We love the look of a large size print as a focal point for the mantle!  
Accessories on top of the mantle help finish the look.  We are currently obsessed with  "A Bunch and Then Some" dreidels, which you can display in a hurricane-style container or a vase.  I also love using a menorah and even wrapped presents.  To finish off the look, lean some pillows and some more gifts in front of your mantle and--voila--your mantle is complete! 
photo via @ariel.loves
Beyond the mantle, there are so many other places you can decorate in your home.  I enjoy decorating my foyer, as it makes a beautiful entry for my family and guests.  You can use banners on an exposed staircase, in a doorway, or hanging from a chest.  You can easily complete the look with some accessories such as candles or fresh flowers; and a beautiful piece of holiday art above the chest completes the look.
Of course, when I think of any Jewish holiday, I think about gathering around the table with loved ones.  To set a beautiful table for delicious latkes or your favorite brisket, decorative napkins really help elevate the look.  A menorah makes the perfect accent, along with a floral centerpiece and some votives.  If having a large gathering Hanukkah place cards will help everyone know where to sit and adds that pop of color to the table.
Quick decoration ideas include adding Hanukkah pillows to a sofa or chair,  and putting small artwork in your kitchen.  All it takes are a few changes to truly elevate your home to a new level of beautiful festivity. 
I am really looking forward to decorating our home this year for Hanukkah, and I am also looking forward to sharing photos with you. We also love seeing the way you incorporate Hanukkah decorations and celebrations into your own homes; please email photos to us, or tag us on Instagram at @peacelovelightshop.  
Wishing you all a wonderful Hanukkah season!  Please reach out with any decorating questions or thoughts; we love to hear from you!
Have a lovely and peaceful day,
Lisa