How to Help Ukraine's Jewish Community - Where to Donate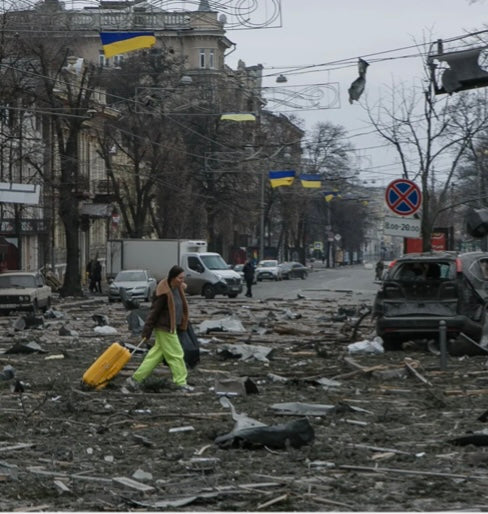 As we celebrate Purim, it's hard to ignore the similarities between the past and the present. Nearly three thousand years ago in Egypt, Jews fled from slavery and found liberation; today Ukrainians are seeking the same.
Already, two million Ukrainians have fled the country. Of them, 3,000 Ukrainian Jews have found refuge in Moldova and another 3,000 in Poland, Hungary, and Romania. Israel is expected to welcome 100,000 Jews, half of Ukraine's Jewish-identifying population, and up to 25,000 non-Jewish Ukrainians.
As individuals, it can be easy to feel powerless in the outcomes of war. However, Jews across the globe are coming together to help Ukrainians in a variety of ways. Here are some resources for how you can help:
Jewish Organizations Seeking Donations:
The Afya Foundation's Disaster Response Hub is collecting surgical and biomedical equipment to airlift to Ukraine for wound care. You can send items from their Amazon Wish List, ranging from $2.99 first aid tape to respirators.  Medical professionals and medical suppliers can also view the requested medical supply list.

The American Jewish Committee has created an emergency fund #StandWithUkraine to provide humanitarian relief to refugees, assist Ukrainian Jews seeking to make Aliyah to Israel, and to support and protect those who wish to remain in Ukraine, specifically the elderly.
The American Joint Jewish Distribution Committee, the "global Jewish 9-1-1," is proving on-the-ground humanitarian aid. Donate here.

The Chabad-Lubavitch movement is providing food, water, shelter, and safe passage out of Ukraine when possible through the Ukraine Jewish Relief Fund.

The Masorti Olami has a Ukrainian Relief Fund.

The UJA-Federation of New York is providing humanitarian aid such as food, shelter, transport, and emergency medical kits. Donate here.

The Jewish Federation of Great Los Angeles' Ukraine Jewish Community Relief Fund is providing urgent humanitarian aid, financial and medical assistance, transportation out of conflict areas, and security at Jewish institutions in several Ukrainian cities. The Jewish Federation of St. Louis also has a Ukraine Crisis Fund.
Project Kesher has an Emergency Fund for Women and Girls in Ukraine providing transportation and accommodations for those fleeing.

B'nai B'rith is accepting donations to their Ukraine Assistance Fund.

As of March 14th, Agudath Israel of America has raised $12.2 million and all donations until $14.3 million will be matched. They are providing humanitarian aid including airlifting food and medical supplies over enemy lines.

The United Hatzalah of Israel is delivering medical care.

IsraAID is accepting donations to continue administering psychological first aid and essential relief supplies.

Click here to donate to Israel's branch of the Red Cross, Magen David Adom.

The Women's Zionist Organization of America, Hadassah has opened a fund "Ukraine in Crisis: Save a Life at Risk!"
The Orthodox Union's Ukraine in Crisis Fund.

The World Jewish Relief has a Ukraine Crisis Appeal is providing humanitarian support.

The World Union for Progressive Judaism also has a Ukraine Crisis Fund.

To donate more directly to Ukraine's war effort, "Come Back Alive" is a military charity that distributes protective gear to soldiers.

Also, more generally, the International Committee of the Red Cross.
While war is widespread and overwhelming, we each have an opportunity to do some tikkun olam. From donating to humanitarian organizations to supporting a local bagel shop, every small action contributes to the larger fight for good. And, as we celebrate Purim and our ancestors' escape from slavery, may we also think of and act in support of those who are still fighting for that reality today.
--------------------------------------------------------------------------------------
Regina Avtacha is a junior at Southern Connecticut State University. She is pursuing her undergraduate degree in English with a concentration in Creative Writing and minors in Judaic Studies, and Arts Administration & Cultural Advocacy. She grew up in an interfaith house and is currently the President of Hillel at SCSU.