Holiday Decorating for an Interfaith Family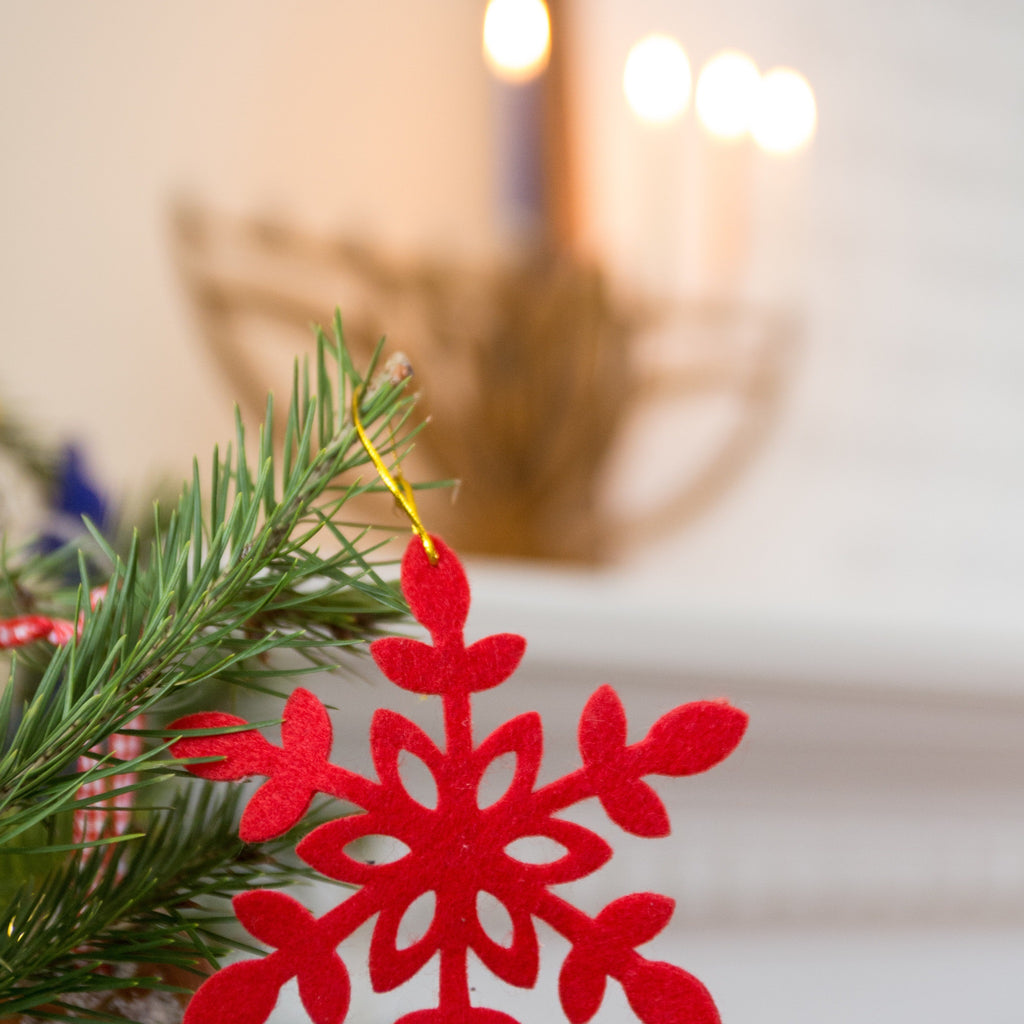 If your family celebrates both Hanukkah and Christmas, you may struggle with how to blend decorations and create a cohesive look.  In order to help share our ideas, we recently asked on our Instagram and Facebook pages for a home to decorate and fortunately found the sweetest family.
Upon arriving at the Nieburg Boxall home, we were immediately enchanted by the bright, artsy décor.  We loved all the fun colors and decided to carry this look into our holiday decorations.
Having never decorated for an interfaith family for the holidays, we had lots of questions.  We asked whether they wanted the decorations be displayed together or if we should set up separate vignettes.  We also wondered if they had one large celebration or celebrated each holiday separately.  We decided to decorate the living room, showing décor for both holidays, but since they had separate dinners, we would decorate the dining room for Hanukkah.
In order to create a cohesive look, the most important thing was to stick with a color story.  Luckily, we felt that part was easy as you can find rows, and rows of Christmas décor in every color imaginable.  As we all know, it's not as easy to find Hanukkah décor (hence the reason we created Peace Love Light!)
We began the process with the living room.  The Christmas tree was already purchased and placed next to the mantel.  The tree was decorated with the most adorable ornaments, many of them handmade.  On top of the mantel, we placed our Oh Hanukkah wood sign (now carry this print instead) and layered a white metal wreath.  We felt this helped honor both cultures and create a festive flair.  To the left of the sign we positioned our Lotus Flower Menorah and used bright colored candles that coordinated with the ornaments.  We wanted to incorporate the homeowner's accessories and chose the cutest mushroom accents to finish off the look.  For the 2 girls in the family, we hung blue embroidered dreidel stockings.
Next, we decorated the dining room.  It was important to us that the decorations could easily be changed to celebrate Christmas, so we stuck with a palette that could work for both.
We set the table with our linen, embroidered Hanukkah runner and scattered silver dreidels.  We then used their Navy placemats, nature inspired ornaments, and darling silver menorah as a centerpiece.  To tie in the color palette, we placed a single red flower on each dinner plate, accented with one silver dreidel.
The credenza is always a great piece to accent and creates the backdrop for the dining room.  On the credenza, we used our popular Happy Hanukkah framed sign.  Nicola, the homeowner creates the most beautiful pottery, which can be found on her Instagram and Facebook pages.   We decided to use one of her vases that she created as an accent filled with a floral arrangement. 
If you are an interfaith family and want to decorate for the holidays there are so many color stories that can work.  While for this home, we chose a bright palette of reds, blues, and greens, many others can look beautiful as well.  We think a wintery theme would be amazing with whites, pale blues and rustic elements.  Or perhaps a more glam look with metallics, blush, burgundy and rose gold.  Choose a look that works best for you and have fun with it!  If you are ever in need of some ideas, you can always contact us an we would be happy to help.
We hope you have enjoyed our series of decorating posts and have been inspired with ideas to decorate your own home.  Our other posts for Hanukkah include:
Our Favorite Influencers Decorate for Hanukkah
Decorating for Hanukkah:  Hanukkah House Tour
Decorating for Hanukkah:  How to Style Your Mantel
With Peace, Love, and Light,
Lisa
All photos taken by Charlene at www.charpics.net, who not only takes gorgeous room photos but also is a talented Bar/Bat Mitzvah & Wedding photographer.  If you are in need of a Connecticut photographer, she is the one to contact.