Preparing Your Passover Menu- Plant Based Recipes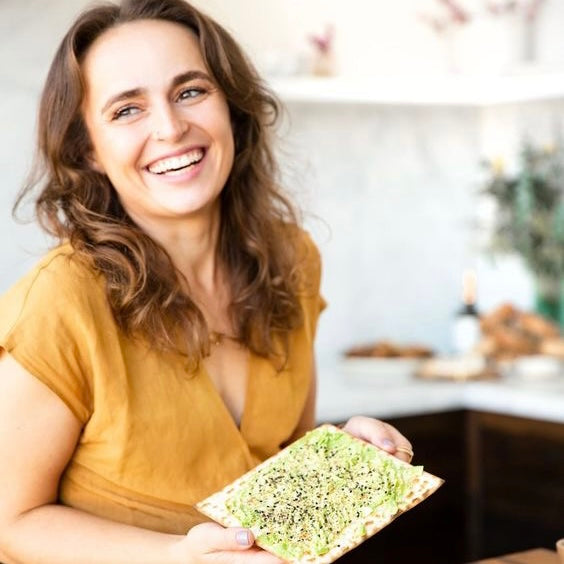 Hi I'm Micah, from Nosh with Micah . I'm a Registered Dietitian and trained chef, passionate about all things food! I create modern recipes inspired by tradition, paying homage to the cultural foods I grew up eating. My recipes are plant-forward, with a (mostly) nutritious spin, but guaranteed delicious. As I strive to reimagine Jewish food, my holiday menus can range from classic to unique, and I'm here to inspire you to think outside the meat and potatoes, as we transport Jewish cuisine to the 21st century.
In the spirit of trying something new, say goodbye to the shank bone and try something different this Passover! If your family is like mine, brisket has been a staple at your Passover Seder for generations. But with the rise in plant-based eating and changing dietary preferences, it may be time to go veggie this Passover.
Not ready to give up the meat? Try adding a few plant-based dishes that will please a crowd, no matter if they are vegan or meat-eaters!
If meatless is on your mind, you might be wondering: "what about the seder plate?" Replace your seder plate shank bone with a beet to signify the deep color of the paschal lamb and exchange the roasted egg with a lookalike mushroom or avocado seed.
Here are a few crowd-pleasing recipes to include in this year's seder and beyond:
(click photos or descriptions to view recipes) 
Skip the sugar laden Tzimmes and try this vegetarian sweet potato tzimmes recipe that uses carrots, whole oranges, orange zest, sesame seeds, dates and walnuts. It's a perfectly balanced side dish that doesn't come with a sugar rush. 
The secret to a stellar salad? Exciting flavors, different textures, and a flavorful dressing! This satisfying salad features a sweet roasted squash with Moroccan inspired flavors, spicy arugula and a zippy dressing.
I used a Kabocha Squash in this recipe, but it works great with acorn, butternut, or sugar pumpkin. And don't bother peeling the squash - when roasted the skin is perfectly edible and tender.
Don't eat chickpeas during Passover? Omit them and add ¼ cup almonds! 
Passover isn't Passover without chicken soup… until now! Serve up a bowl of comforting Parsnip & Apple Soup with matzo balls for a new spin on the classic Passover dish! No matter if you are enjoying meat at your seder, this vegan, dairy-free soup is the perfect way to start your festive meal!
Check out my blog www.noshwithmicah.com where I share more inspired recipes for the holidays and beyond, helping you bring a little bit of Jewish nosh onto your plate!
Need help with what goes on a Passover table.  Read our post, Preparing for your Passover Seder, and shop our site Peace Love Light for all your Passover needs.