Our Favorite Influencers Decorate for Hanukkah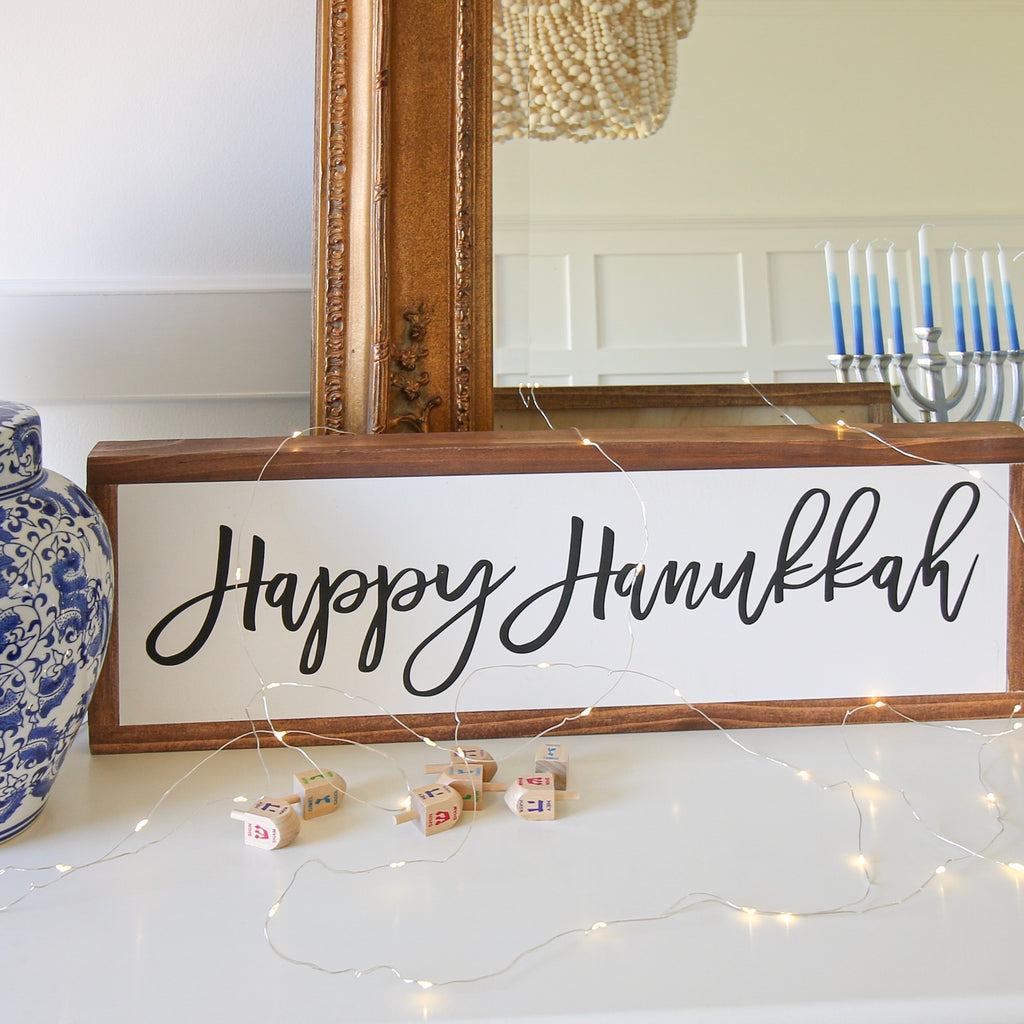 One of our goals this year was to share ideas on how to decorate for the Jewish holidays.  Whether it be setting the table, decorating a mantel, or putting together a beautiful display highlighting your menorah, our hope was to inspire you and get you excited to decorate your own home.
In order to share multiple looks, we decided to partner with four fabulous influencers.  We have been following each of them for some time, and they all have their own creative sense of style.  We encourage you to look at their Instagram pages, blogs, and you-tube channels, we promise, you won't be disappointed!
Ariel Loves, arielloves.com, Instagram @ariel.loves
Ariel is a stay-at-home mom to two sweet daughters, Adina and Noa.  She uses her blog and Instagram page as a creative outlet to document and share things that she loves.  We just love her sense of style, whether it be throwing a kids party, decorating her home, or choosing the most adorable outfits for family photos. 
For Hanukkah, Ariel chose a sophisticated neutral color palette with pops of blue and green.  We love how her look and is both rustic yet elegant!  For her mantel she chose the Happy Hanukkah cream and gold sign, the Michael Aram Botanical Menorah (an absolute favorite of ours!) and the Signs of the Season banner (which fits in perfectly with her decor).  Her mantel coordinates so well with her table display, which she highlighted with white hydrangeas and faux eucalyptus leaves.  For her dining table, Ariel chose the grey Happy Hanukkah Love & Light napkins and coordinating place cards which are accented with gold foil. 
Marion, You Tube My Jewish Mommy Life, Instagram @myjewishmommylife
If you don't already know of Marion from My Jewish Mommy Life you must check out her YouTube videos.  I have not met her in person but feel like I know her, she has the kind of bubbly personality you just want to be friends with!   Marion's home is beautiful (and so well organized!) and we were so happy that she decorated using our products.
On her mantel Marion displayed our blue Happy Hanukkah sign, star of David votives in the blue palette and our Signs of Season banner.  She accented her mantel with her menorah, family photos, and blue twinkle lights that look so beautiful at nighttime.  We think the color palette she chose coordinates so well with her home.  She also used our silver dreidels to decorate her buffet.  Click on the video to see more!
Rebekah Lowin, rebekahlowin.com, Instagram @rebekahlowin
Rebekah is (in our opinion), the Jewish Martha Stewart.  Her ideas are absolutely the most creative we have seen, and she constantly inspires us with her recipes and decorating skills.  We just love waiting to see what she comes up with next!
Rebekah chose to decorate her table, scattered with our star of David votives and silver dreidels.  Her table is accented with a gorgeous floral arrangement, blue table runner, and cute disco balls.  She also chose our Signs of the Season banner as a backdrop (yup, popular choice!).
Stefana Silber, stefanasilber.com, Instagram @stefanasilber
Finally, Stefana has the home of our dreams.  Her design skills are impeccable, and every photo is perfectly (I mean, perfectly!) styled.  Stefana's family celebrates both Hanukkah and Christmas, but likes to decorate for each on their own, setting the table for Hanukkah, and then for Christmas.  The items she chose have never looked lovelier as she adds just the right touch of style.
Stefana chose our Happy Hanukkah framed sign on her credenza.  We just adore how she styled it surrounded by her beautiful white and blue pottery and mini string lights.  On her dining table Stefana showcased our embroidered table runner, and 2 sets of our star of David votive holders.
We hope you feel as inspired as we do after seeing some of the ways to style your home for the Festival of Lights.  If you would like to read more about decorating your home for Hanukkah, you can read our following posts:
Decorating for Hanukkah:  Hanukkah House Tour
Decorating for Hanukkah:  How to Style Your Mantel
Decorating for Hanukkah:  Tips and Tricks
Holiday Decorating for an Interfaith Family
Also, we would love to see how you decorate your home for Hanukkah.  We are setting up a gallery of customer photos on our site and hope you will share some of yours with us.  If you would like to be featured, you can either upload a review with a photo, contact us, or tag us on Instagram at @peacelovelightshop.
With Peace, Love, and Light
Lisa