Decorating for Hanukkah: How to Style Your Mantle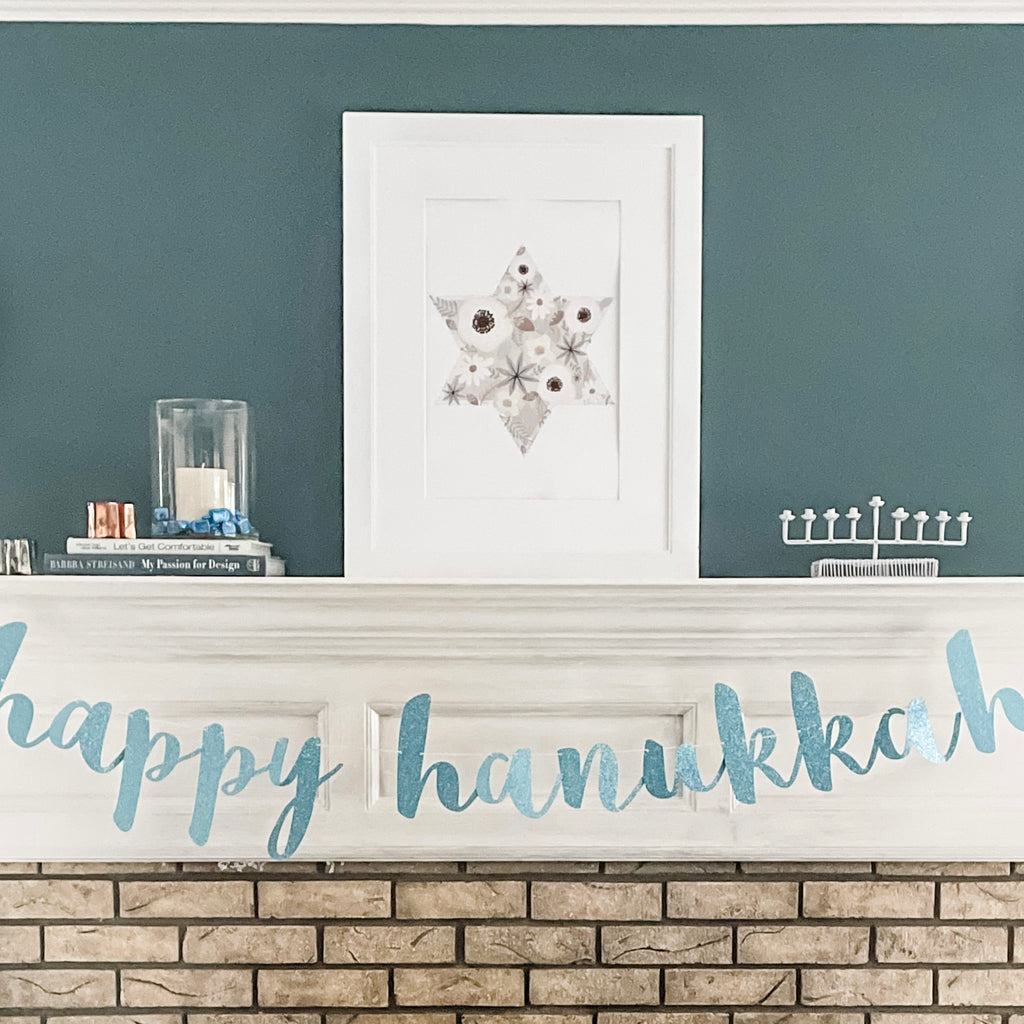 One of my favorite spaces in the home to decorate for Hanukkah is a fireplace mantle.  There is something about the warmth of the fireplace around the holidays that is so warm and comforting!  It is also the focal point of a room, and often where friends and family gather. 
One of the most frequent questions we get from customers is how to decorate a mantle for Hanukkah, so I thought it would be a good idea to share some photos for inspiration, along with some tips:
I love the look of a banner as it adds that feeling of festivity to your home.
Simplicity is key! I see so many mantels crowded with tons of tchotchkes. Had to look up the spelling of that word, but you know what I mean.  Keep it clean and simple!  You don't need tons of decorations to make it look good.  You can use a menorah, dreidels in a glass hurricane (a favorite of ours), candles, books, plants, or a few tchotchkes (just not lined up across your mantle!). 
Some love symmetry, and others feel asymmetry is more modern.  Use your judgement.  As you see, some of these photos are symmetrical, while some are not.  The key is if asymmetrical, keep items at different heights to add interest.
We love the look of a large piece of themed artwork above the mantle, but it doesn't need to be. You can keep the artwork you already have hung, or a mirror would look beautiful! Many have a TV over the mantel, that works too! Just accessorize either side, hang a banner and your mantel is immediately transformed.
We love to hear from our customers and have helped many with ideas on how to accessorize their mantel for Hanukkah.  If you would like help, send us a photo of your mantel (or any other room of your home) to info@peacelovelightshop.com and we will email you back a photo with suggestions on how to decorate.
Items shown in this post:
Happy Hanukkah glitter banner, star of David floral art, dreidels- blue, dreidels- silver, white galvanized steel menorah, star of David votives, star of David pompom banner, wood star banner, Happy Hanukkah wood sign- gold, Michael Aram botanical menorah. 
We hope you have enjoyed our series of decorating posts and have been inspired with ideas to decorate your own home.  Our other posts for Hanukkah include:
Our Favorite Influencers Decorate for Hanukkah
Decorating for Hanukkah:  Hanukkah House Tour Holiday
Decorating for an Interfaith Family
With love & light, Lisa